Your Partner For Reliable Healthcare.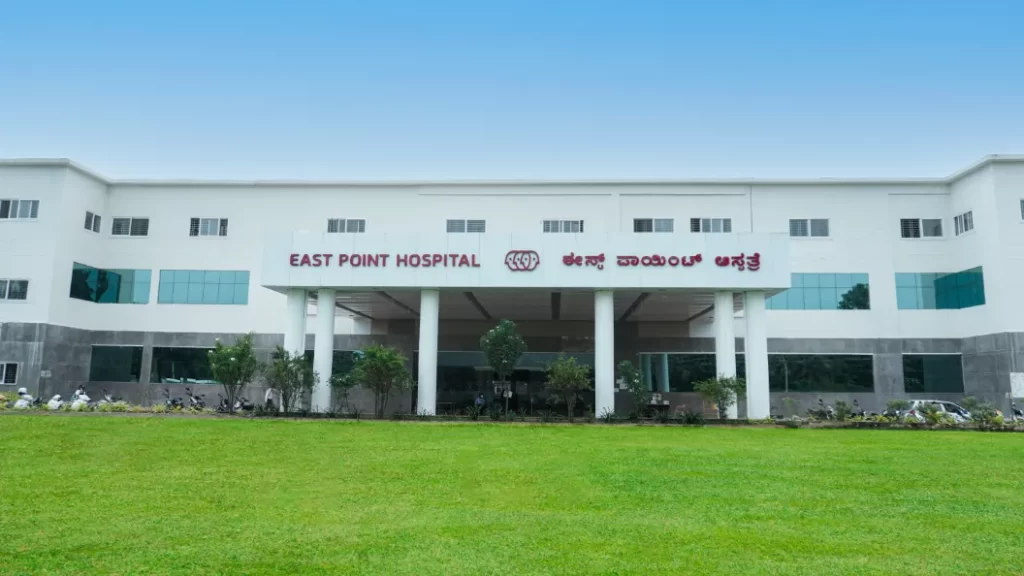 About East Point Hospitals, Bangalore
East Point Super-Specialty Hospital is a pioneer in patient care, serving patients from all across the globe. We're here when you need us. For everyday care or life-changing care, you can count on us to keep you and your loved ones safe and healthy.


East Point Hospital, Bangalore is a gem in the crown of Jnana Prabha Campus of the MG Charitable Trust. The establishment is founded by Dr. S M Venkatpathi who is also the Managing Trustee and Founder of the MG Charitable Trust. It is efficiently managed by Mr. Pramod Gowda, former Senate Member of the Visvesvaraya Technological University, Belgaum, and CEO of East Point College of Medical Sciences and Research Centre.
East Point Hospital is a hospital that believes in the importance of clinical excellence and ethical practices. The medical staff here has been trained to provide quality service for all its patients with compassion.

Our nursing staff and paramedics are highly qualified to provide great patient care. They work in tandem with our clinical team, always keeping the needs of their patients at heart.
We offer an integrated range of healthcare services with our state-of-the-art facilities. We keep pace with all new technological breakthroughs in medical science and equip our hospitals to provide customized treatment options for each individual, meeting global standards alike.

From the simplest to the most complex medical problems, we deliver the most cutting-edge treatment. We serve thousands of patients through our hospital every day and offer quality healthcare to people from India and overseas.
Why Choose East Point Hospital?
Dependable Care At An Affordable Price
Recognized as one of the leading hospitals in Bangalore, East Point Hospital has proudly served the community for decades. Today, we continue to meet the needs of our diverse population by providing a wide range of quality healthcare services at affordable costs.
We are a NABH Certified Hospital
Positive Reviews From Patients
East Point regularly receives letters of thanks from former patients or their family members for the high level of care we provide throughout our facility. Below are just a few examples of the nice messages we have received.
Very much satisfied about the system and the response from the entire staff. I visited the hospital to get vaccinated against COVID-19. Excellent system and very seamless.
Fantastic treatment. I had a great doctor who cared for me as a good friend while treating me. I would also like to thank the hospital staff and hospital management. Thank you East Point Hospital.
Fast service and well-behaved staff. Thanks a lot to sister Srimati & sister Priyanka for being so supportive and motivating during my vaccination. God bless you. Thanks again.
Very good hospital. I had a homely feeling while getting treated. Dedicated doctors, staff, and nurses. I am really happy with all the services by East Point. Every staff member is very dedicated. Each and every person is doing their job perfectly. Keep it up.
In case of emergencies, call us at